Testimonials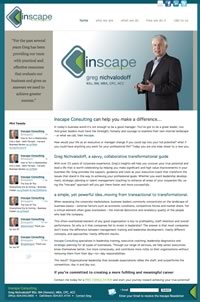 If I could chose one word to describe Theresa it would be "reliable." Theresa is a client-centric individual who provides quality service in a very timely manner. Her web & graphic design capabilities exceed many similar service providers.
She is number 1 on my list of recommended web & graphic design providers. Easy to work with and very intuitive in terms of client expectations. Theresa is inventive, confident, passionate and possesses a real "can do" attitude. Theresa has greatly improved my presence and brand on the web.
---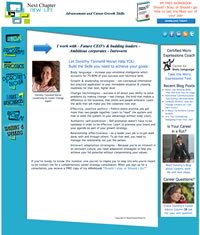 I'm honored to give a heartfelt recommendation to Theresa Leonard and her web design and support services. Theresa is very creative with her graphics and I continue to receive rave reviews from my website that she designed. I do think, however, the rubber meets the road on an everyday basis. It's one thing to design and bring up a website and something entirely different to respond to ongoing business demands.
Theresa is very responsive to meeting deadlines for changes and additions. I can feel confident that things will get done and I think that is worth a ton. I've heard stories of web masters that take forever to get things done and are more or less a black hole - you don't know if anything is going to come out. My story with Theresa is not like that. I know whatever she does, I'm going to like, she updates me, communicates, asks questions and we work as a partnership. For anyone considering hiring her, do it- you'll be happy you did.
Dorothy Tannahill Moran, CPCC,ACC
Career Coach: Your Career Change Agent
Next Chapter New Life
---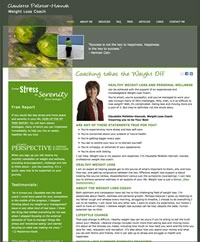 I spent a LOT of time searching for the right web designer. Having spent many years working as a graphic designer myself, I knew someone with strictly technical know-how or ready-built templates would not work for me. Theresa has creative talent, as well as technical know-how, and is always willing to learn that which she has not yet done. She is a great problem-solver. Theresa provides excellent service, rolling with my quirks and techno-panic with grace and humor.
Claudette Pelletier-Hannah
Weight and Wellness Coach
---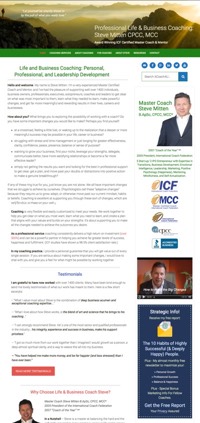 Theresa is one of those very rare professionals who combines an artist sensitivity for design, with a rock solid knowledge of programming and technology. She can not only help you create a beautiful site, but will ensure it works great.
Steve Mitten, MCC
President
www.acoach4u.com
---
I also used Theresa Leonard of FiddleFace and am very pleased. Most importantly, I get a lot of comments about how professional the site is, and how easy it is to navigate.
I purposely did not do a WordPress site - I wanted strictly html, but she can do either one well because she recommended WordPress.
My site is exceptionally extensive and complex, and it's working fine - probably would not say that with many others because she really spent significant time to make sure it was working properly. Even after we were complete and I caught something, she had no problem fixing it.
---
We wanted to do a major redesign of our website at the end of our 2011 shipping season. Our goals were to have the CMS portion be more flexible, and the ecommerce portion to function without flaw.
I did a thorough review of web development firms, and it was Fiddleface, (Theresa) who rose above the others. Her analysis of our existing website was detailed and accurate, and her proposal for the redesign was specific, responsive, and well presented. She had heard what we wanted, and she delivered.
I worked closely with Theresa throughout the project, and can say without hesitation that she is talented, creative, technical, articulate, and humorous! She knows what she knows, and acknowledges what she doesn't - - another great quality that cuts through the chase quickly when resolving issues that inevitably arise during a project
She went above and beyond to create the product that we wanted. Her artistry combined with her technical expertise is a wonderful combination, and it was a pleasure to work with her.
We launched our new site in January 2012, and we are very pleased with the results.
I recommend Theresa without hesitation.
---